Hurray! The March Snapped Up Linky is live! S
hare your favourite shopping hauls and product reviews for the chance to win a Blogger's Journal from Paperchase! 
You can join this Linky by copying your blog post url (or YouTube video) and clicking where it reads 'Click here to enter'
(in red below)
and then just follow the instructions! You can link up to three blog posts/videos.
Once you've done that, pop back to this page and follow these rules…
1. Comment on the host's post (marked HOST in brackets)
2. Comment on the blog post or video just before yours plus AT LEAST one other (preferably all if possible – sharing is caring!) 
3. Grab the code for the Snapped Up Linky badge (at the bottom of this page) and add it to your blog post. If you are submitting a YouTube link instead, please mention 'I'm linking up with the #SnappedUp Linky at HomeandHorizon.com' with the link.
And that's all there is to it! So what's offered in return? Well, a few goodies actually…
1. Other participants will comment on your post/vlog

2. I will comment on every post – and share it via Twitter on an ongoing basis for the rest of the year. I will also Pin (posts) on my Pinterest product review or shopping haul board.


3. If you
email me
I will post you 3 'lucky' postcards for free! (UK participants only and until stocks last) 
4. As
BritMums' Shopping Hauls Round-up Editor,
I'll be checking out any shopping hauls with a view to including them on the BritMums' website!

5. Finally, you get the chance to win a Blogger's journal – and I can't be more generous than that!
The Blogger's Journal will have you (and your blog) organised in no time at all!
It offers 132 pages featuring a variety of specially designed layouts, including ones that will help you plan your blog posts, track your stats and reach your blogging goals!
LAST MONTH'S WINNER!

Congrats to Kelly from Kelly Allen Writer who won a Blogger's Journal from Paperchase for linking up her review post on a Kenwood Food Processor. She followed all the linky rules to bag the prize….WELL DONE KELLY!
NOW IT'S YOUR TURN…
THE T'S & C'S
1. All UK and overseas bloggers and vloggers can enter the Snapped Up Linky, but only UK residents are eligible to receive the postcards and win the competition prize
2. Entries will only be considered as eligible for the prize if ALL RULES have been met.
3. By entering the linky you are agreeing to be notified of future linkups.
Thanks for taking part – pop back soon to see more great buys/reviews and leave your comments and support for others please.
Remember to add the Snapped Up Linky badge to your posts… (bonus points if you tweet about the linky too!)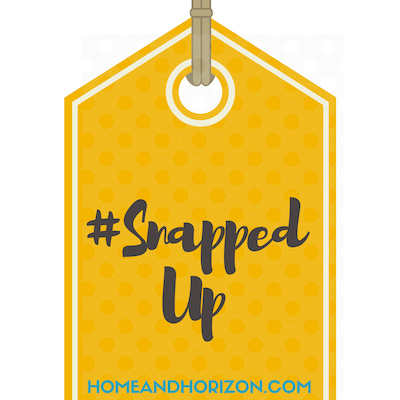 A pin for your Blogging Board!

You might also like…